One of the most versatile and widely used metalworking tools is the carbide bur. Carbide burs are used for numerous applications including weld preparation/smoothing, deburring, chamfering, pattern making, die sinking, tool making, and much more. Champion Cutting Tools' line of high-quality carbide burs is designed and made to handle even the most demanding jobs. Champion's carbide burs are manufactured in the U.S.A. from C2 tungsten carbide.
Carbide burs are precision machine ground using diamond wheels and automated CNC machinery. This manufacturing process produces consistent geometry, sharp cutting edges, and vibration-free performance. A Titanium Nitride coating is added to all carbide burs to provide a superior finish and a longer life, all at no extra cost to you the customer.
At Tanner, we offer two different types of cuts, Double Cut and Non-Ferrous, as well as Long Series carbide burs.


Double-Cut Carbide Burs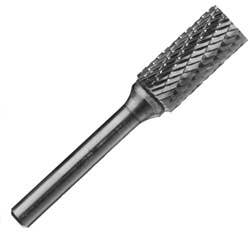 Flutes are cross-cut for enhanced operator control and efficient material removal

Application: Ferrous Metals - Steel, Cast Iron, Titanium, Brass, Copper, Bronze



*Champion's High-Performance Burs Are TiN (Titanium Nitride) Coated For Enhanced Tool Performance And Life
---
Non-Ferrous Carbide Burs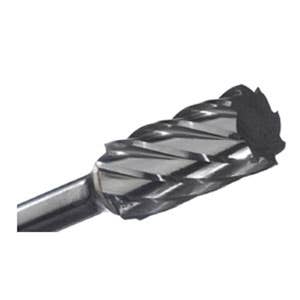 Single, wide flute peels away softer materials
Application: Non-Ferrous Metals- Aluminum, Brass, Carbon Fiber, Copper, Magnesium, Zinc
---
Miniature Carbide Burs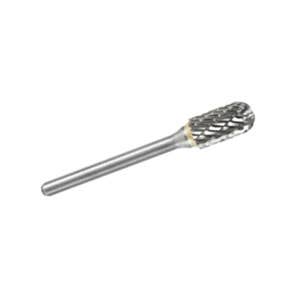 Double-cut flutes for efficient material removal

Application: Small size is ideal for engraving or etching

For use In Dremel like power tools (pencil grinder

s)
---
Extra-Long Carbide Burs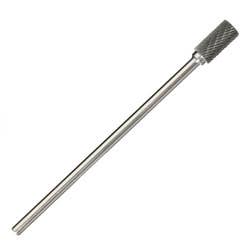 6" overall length for when extra reach is needed
Double-cut flutes for efficient material removal
Application: Ferrous Metals- Steel, Cast Iron, Titanium, Brass, Copper, Bronze
---
For more information about Champion's Carbide Burs shapes, sizes, and cuts,
Check Out the Carbide Burs PDF Here
Important tips on using and selecting the correct carbide bur:
The selection of shape and diameter is based on the workpiece and application.
The selection of cut is based on the material and finish required.
Double Cut burs have teeth that provide excellent stock removal on hard materials. They reduce bounce and chatter, offer excellent operator control, and produce a fine surface finish
Non Ferrous burs are recommended for soft materials that tend to load and pack in the flutes. These burs have open, aggressive cutting edges that allow easy chip flow and minimal clogging.
When using carbide burs, start at lower speeds and increase speed until the desired result is achieved.
When placing the carbide bur into the die grinder, it should be inserted into the collet as far as possible to minimize overhang.
Carbide burs should be feathered into the cut with even pressure to avoid digging into the material.
Do not apply excessive pressure, it can slow the spindle and chip cutting edges. Let the bur do the cutting.
Never encapsulate the bur in the cut.
Carbide burs, if used properly, will outperform HSS burs by 50:1.